I'm trying hard to get settled in to our fall routine. I now have 2 1/2 hours a week with no children! It's been a long time since I've been alone in my house and I have to tell you it's a bit strange. Both girls are loving their new schools and always have lots of things to tell me about when they get home. I'm still trying to decide what to do with my "me time", LOL! I SHOULD work out, but this week I designed :-) I think I'll have to schedule the gym on my calendar for next week!

Here are a few of the new things I've been working on this week...

A Most Magical Alpha by Happy Scrap Girl Designs




Here's a closer look...




Little Pixie Alpha by Happy Scrap Girl Designs





Want to see it closer?




Magical Little Pixie Combo by Happy Scrap Girl Designs




Worn Neutrals Paper Pack by Happy Scrap Girl Designs




I also have a little freebie for you today. This word art was created using "A Most Magical Alpha". It would be great to scrap magical vacations, everyday magical moments or it could even be fun for some Halloween LO's!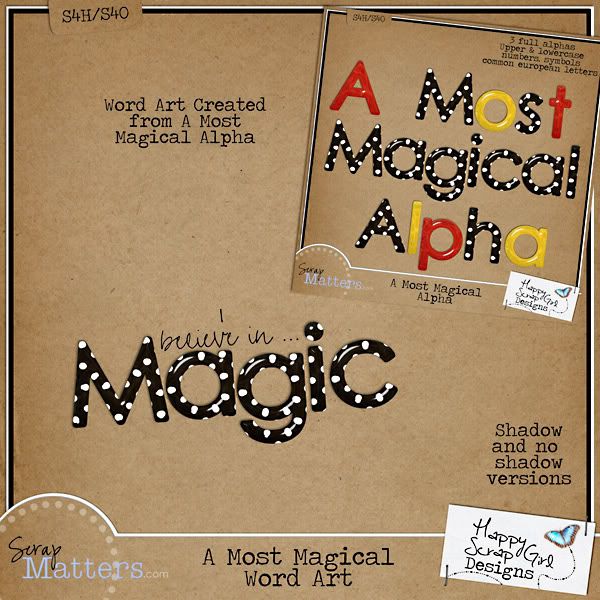 Oh yes, one more thing - anyone who leaves a comment on this post will be entered into a drawing for a $10 Gift Certificate to my shop! Drawing will be held on 10/2/09. Don't forget to leave a way for me to contact you if you are the winner!!


Thanks for stopping by!