Don't you just love it when you learn something new??

Recently, I was organizing some template packs and I always save my LO's as tiff files - they take up less space that way, and I can see what they are without having to open them first. So I decided to save all of the digital scrapbook templates I had downloaded as tiffs too. Until I realized that I had to save each one, lol!

But I figured out how to process a whole folder of them at once! I thought it would be helpful to share for anyone that makes templates or just wants to convert their psd files to tiff files.

Ready?
This only works for Photoshop (PS) users (I thought I found a way to do it in PSE, but it doesn't compress the tiff files so they end up HUGE!) Go to File, Scripts, Image Processor.
Then in the pop up box (pictured below)...
Step 1 select the folder you want to process
Step 2 save it in the same location
Step 3 File type - save as tiff - make sure LZW compression is checked.
       *If you want to get fancy and save a smaller size jpg of your LO or template, say for your gallery or for the psd file thumbnails if you are selling templates - you can also save as jpg and resize to 600 pixels and it will save both at the same time
Step 4 preferences included ICC profile (this was the default)
Step 5 click Run and go get something to drink or switch the wash over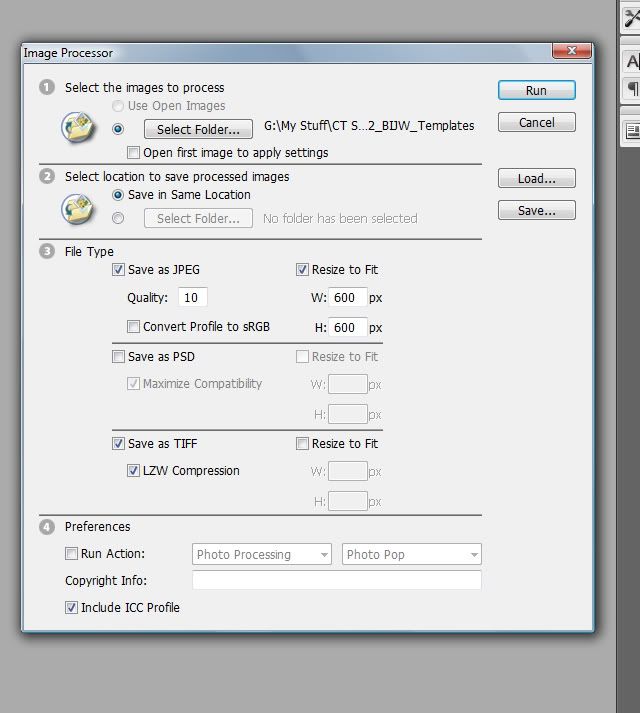 This will save which ever options you choose in a new folder right inside the folder you are processing.
If you are a scrapper or a designer looking to save some hard drive space, consider converting your psd layouts, templates, product previews and working files to tiffs – you'll be amazed at how much extra space you gain!!