It's DSD WEEKEND!!! WOOHOO!!!! 
I hope you are ready to celebrate!  I've packed a lot into this newsletter so hopefully you'll stick with me here, lol!
First up – ScrapMatters is celebrating DSD with 40% off storewide! Spend $20 and get a beautiful collab for free!!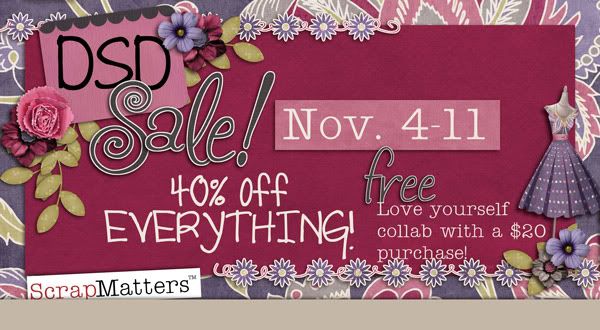 All of my SM products are on sale for 40% off for the sale, including this brand new Krafty paper pack.  I can never get enough Krafty papers – there is just so much that you can do with them.  Recolor, use them for the texture, add a pattern, or cut it up for elements.  OR you can even just use them as they are to add to your scrapbook layouts!
I have a big announcement for you too.  I'm so excited to tell you that I'm going to be setting up shop full time at Scrap Orchard!  That means that my ScrapMatters store will be closing.  I'm really sad to be leaving ScrapMatters but I feel that this is the best path for Happy Scrap Girl Designs to grow even more.  My ScrapMatters store will be closing on Nov 11, 2011 (next Friday).   All of my products will be on sale there for the remainder of the week. I won't be having any additional clearance sales since I had one just a few weeks ago.  I've started moving some products over to ScrapOrchard and will slowly be moving a few more each week. 
SO if you there is something that you've been eyeing at my ScrapMatters store, you'll want to grab it because it may not be available again for a while!
I wish Andrea and all of the other ScrapMatters designers all the best!  ScrapMatters has been a wonderful digi-home for me for a very long time!
My Scrap Orchard store is on sale for 30% off but you can uses this coupon code to save an extra 10% off your purchase – for a total of 40% off anything in my Scrap Orchard Store. 
Coupon Code: celebrate40SO
*please note that this coupon voids any other offers and your total discount will be 40% off your total purchase.
And last but not at all least, I have a freebie available on my Facebook Fan Page!!
Thanks for taking the time to read my newsletter and have a FUN DSD celebration! Hope you find lots of GREAT deals!!
Hugs,
HSG